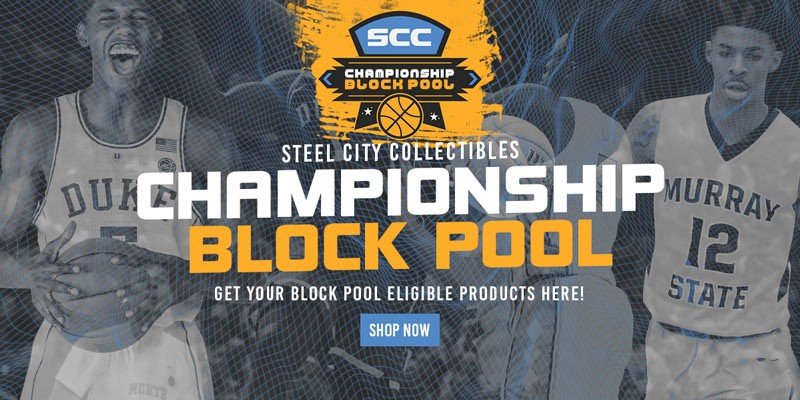 Welcome to the SCC Madness Championship Block Pool!
Shop select products for a chance to win in the SCC Madness Championship Block Pool! New grids will continue to be added once the current grid becomes filled. Any international winners will be responsible for shipping as well as duty & tax charges.
Look for the SCC Block Pool logo on select products to enter! One box ordered is good for one spot in the active block pool. There is no limit to the amount of entries you can have, so winning multiple times in multiple grids is possible!
Shop Eligible Products
SCC Madness: Championship Game
The current pool will close at Monday, April 8th @ 5:00 PM, a few minutes before the game!
Active Grid #1
Each slot is labeled with the last six digits of the corresponding order id! If you're logged in, your spots will be in orange.
TBD
T
B
D

NA
NA
NA
NA
NA
NA
NA
NA
NA
NA
NA
175462
175451
175516
175514
175536
175541
175540
175553
175586
175599
NA
175603
175603
175603
175603
173234
173234
173234
173234
173234
173234
NA
173234
173234
175634
175634
175645
173203
173305
175664
175664
175664
NA
175672
175672
175672
175672
175676
175684
175711
175715
175719
175724
NA
175724
175724
175724
175732
175732
175732
175732
175768
175762
175762
NA
175762
175762
175762
175762
175814
175817
175794
175764
175764
175764
NA
175764
175764
175764
175835
174297
174297
174297
174297
175850
175850
NA
174089
160139
175891
175891
175891
175892
175892
175900
175898
175908
NA
175936
175969
175845
84
85
86
87
88
89
90
NA
91
92
93
94
95
96
97
98
99
100
| | |
| --- | --- |
| 2018-19 Panini Prizm Hobby Basketball 24ct Retail Box | Vince Carter Autographed North Carolina UNC Tar Heels Custom Blue Basketball Jersey - BAS COA |