Shipping Info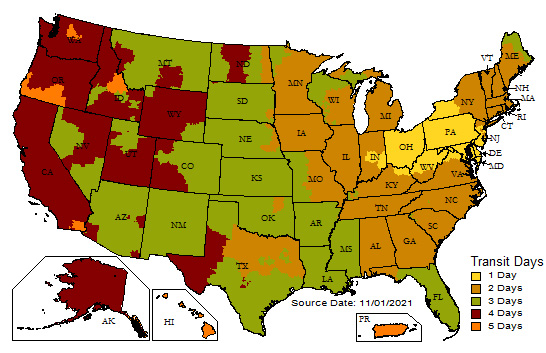 UPS Ground Transit Map - click to enlarge
Shipping Information
Steel City Collectibles takes care when packing and shipping your order. We use strong boxes that are sized right for the number of items in your order. We double box all cases.
Processing Times
| | | |
| --- | --- | --- |
| Day | Time | Ship Date* |
| Monday-Friday | Placed before 3:00PM EST | Same Day |
| Sunday-Thursday | Placed after 3:00PM EST | Next Business Day |
| Friday-Saturday | Placed after 3:00PM EST | Next Working Monday |
*Presale Items typically ship on release date, depending on when our shipment arrives from the manufacturer.
Free Shipping
We offer free shipping on orders over $199 shipped within the continental United States.
Do you ever offer a lower threshold to receive free shipping?
We sometimes run promotions where a lower amount is required to qualify for free shipping. $199 is the standard, normal threshold.
What shipping methods do you use when choosing the free shipping option?
Orders under $500 will ship either USPS Priority Mail, USPS First Class or UPS Ground, depending on the package weight. Orders over $500 will go UPS Ground.
How are your shipping rates calculated?
We strive to provide our customers with the cheapest rates possible for shipping orders. Our rates are pulled directly from our carrier's systems and closely match our costs to ship the package to you. We do not alter these rates, and if you are quoted a lesser amount than what is required of us to ship the package, we pay for the difference.
Estimated Delivery Times
During checkout, most services will return an estimated delivery date. These dates, like the rates themselves, are generated by the respective carrier. Please not that these dates are estimates and are subject to change based on weather conditions, carrier issues, accidents, etc. We cannot control issues with the carrier and are unable to refund any shipping costs if the package is lost due to a carrier issue.
Some services, such as UPS Next Day Air, have guaranteed delivery dates and times. In an event that your package does not arrive within the guaranteed window, please contact us and we will work with you to get the issue resolved.
Do you require a signature for delivery?
Orders over $750 may require a signature upon delivery. At all times, signature requirement is sometimes subject to the driver who is delivering the package at that time.
If your package requires a signature from UPS, you can use UPS My Choice to waive the signature requirement in most cases.
Where can I ship my order to?
Shipping address requirements vary based on the type of payment used.
Credit Cards - Shipping address must match the billing address that is associated with your credit card.
PayPal - All PayPal orders must ship to the confirmed address that is associated with your PayPal account.
To ensure the validity of each transaction and for the safety of ourselves and our customers, the above rules apply. If you need to ship to a different address than is associated with your method of payment, please contact us first. UPS customers can usually change the delivery location of their package using UPS My Choice.
If an order is placed with a mismatch of the billing and shipping address, we reserve the right to cancel your order and payment at the time of purchase. We will contact you with the information on how to place your order.
UPS My Choice and My USPS
By signing up for the free services UPS My Choice and My USPS, you can control your delivery to fit your schedule.
UPS My Choice – Allows you to change the delivery time, date and location. You can also request a hold for pick-up at your local UPS Hub or waive signature requirements in some cases.
My USPS – Allows you to give the delivery driver instructions on where to leave your package at the shipped location.
International Customers
We ship to most areas of the world daily! There are some exclusions however. If you see that your country is not listed in the address forms in checkout, please contact us to see how we can get your order place.
Customs and Brokerage Fees
Our shipping rates do not include and import or brokerage tax that may be due upon delivery of orders shipped outside of the US. You as the buyer agree to pay all brokerage fees and taxes that may be due at the time of delivery.
Can you lessen the declared value on international shipments?
We will not declare a lesser value to customs on any international shipment.